Econ 919 — Mountain Mama buttons up her business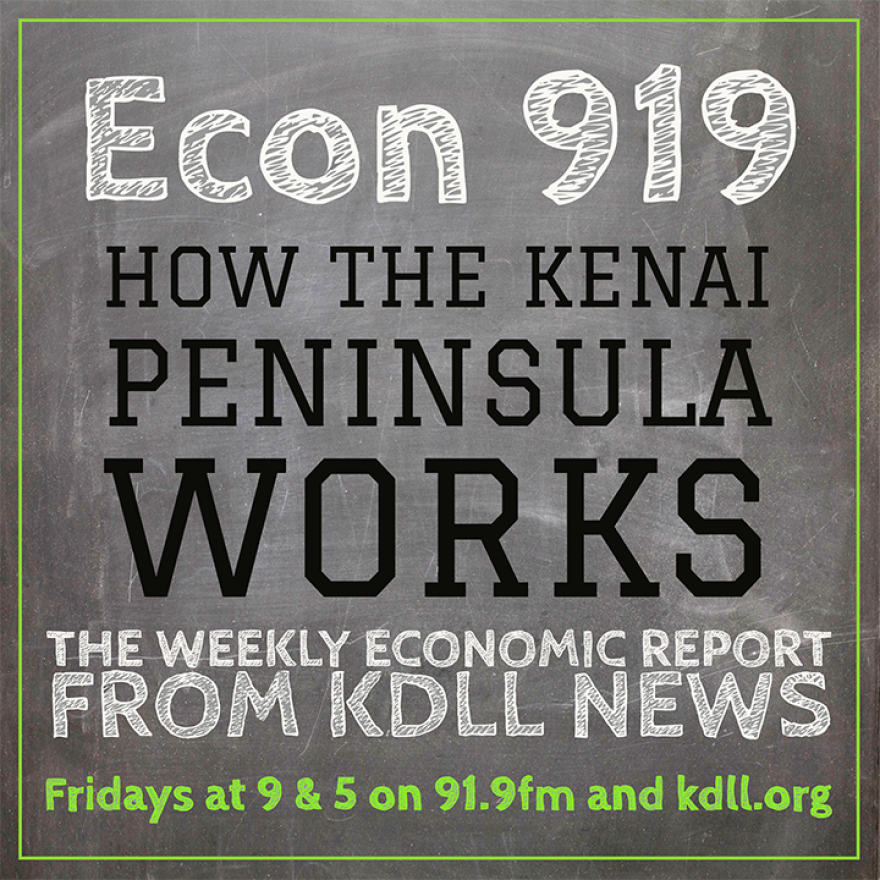 It's going to be a little less fashionable for women on the central peninsula, with a much-loved clothing design businesses leaving town. After 14 years creating colorful, cozy hoodies, pullovers, pants, skirts and more in Soldotna, Susanna Evins is buttoning up Mountain Mama Originals and selling off her fabric, trim — even her signature chunky buttons.
Her family is moving back to Montana. The move isn't completely COVID-19 related but the pandemic has been an impetus to embrace life as it comes.
"I think that's kind of what I've heard with a lot of people in the last few months. They're kind of readjusting and figuring out, 'OK, this means the most to me, so I if want this, then I need to make it happen,'" Evins said. "Yeah, family does (matter). And that's where it comes down to is I want a better balance. And not even just family, I want to have time to learn other things besides just hustling and bustling, doing the same thing."
The arc of her business has followed the arc of her family life. Evins started designing and selling handmade clothing online when her kids were little. When they went off to school, she opened a storefront on the Sterling Highway in Soldotna, in the little village with Artzy Junkin.
But there can be too much of a good thing. As her business grew, her time shrank.
"In a small business, you're running the business," Evins said. "So you're not only manufacturing, which most businesses don't do, they just sell their product. And it just became so much, six days a week — manufacturing, selling, marketing, hiring, purchasing. It became where it became joyless, if I'm going to be honest."
She closed the storefront after five years and went back to doing custom orders and selling online.
"I want to be creating and then I want to be selling but I don't want to be trying to do it at the same time and trying to remember what you're doing and where you stopped," she said. "So I closed my doors to the public in October of last year and just started manufacturing and it was the best thing I did."
Evins had time to design again. Not just clothing but furniture, as well. It was a much better balance. Then came change, full speed ahead. Her husband interviewed for a job and was offered it two hours later. They listed their house and closed on that within seven days.
"They say when the doors open it's obvious you should be walking through them. It's just amazing," she said.
Evins plans to keep designing and selling clothes when she gets set up in Montana but wanted to make a clean break from the business in Alaska before starting anew.
"I love making clothes, most definitely. I just don't want to not meet people's expectations," she said. "So if I just pull myself out and say, 'Hey, this is what I can offer you at this moment.' I want to honor any gift certificates, I want to honor anything that you guys have at this point so that when I do start back up, I feel fresh and I don't feel like I'm already behind the eightball with all these orders behind and trying to find fabric that I don't have on hand anymore."
Last Saturday, Evins sold the rest of her clothing. This Saturday, she's selling all her fabric, from 11 a.m. to 4 p.m. at the old Birch Tree Gallery, about a quarter-mile down Funny River Road.
Her website, Mountain Mama Originals, is shut down for the time being. But keep an eye on her Facebook page for an announcement of when she's up and running again. Or, who knows, maybe still keep an eye around town.
"I love our community. I love the women. It's hard, for sure," she said. "And, like I said, I have an abundance of people I love up here. Who knows, I might just pop up and do a popup or, who knows, you pop down to Montana. It's gorgeous down there, too, and Alaskans know how to travel that's, for sure."
Anyone interested in large purchases of fabric can arrange a time to meet Evins before her sale. Otherwise, the Saturday fabric sale is open to the public.