Econ 919 — Kenai Aviation expands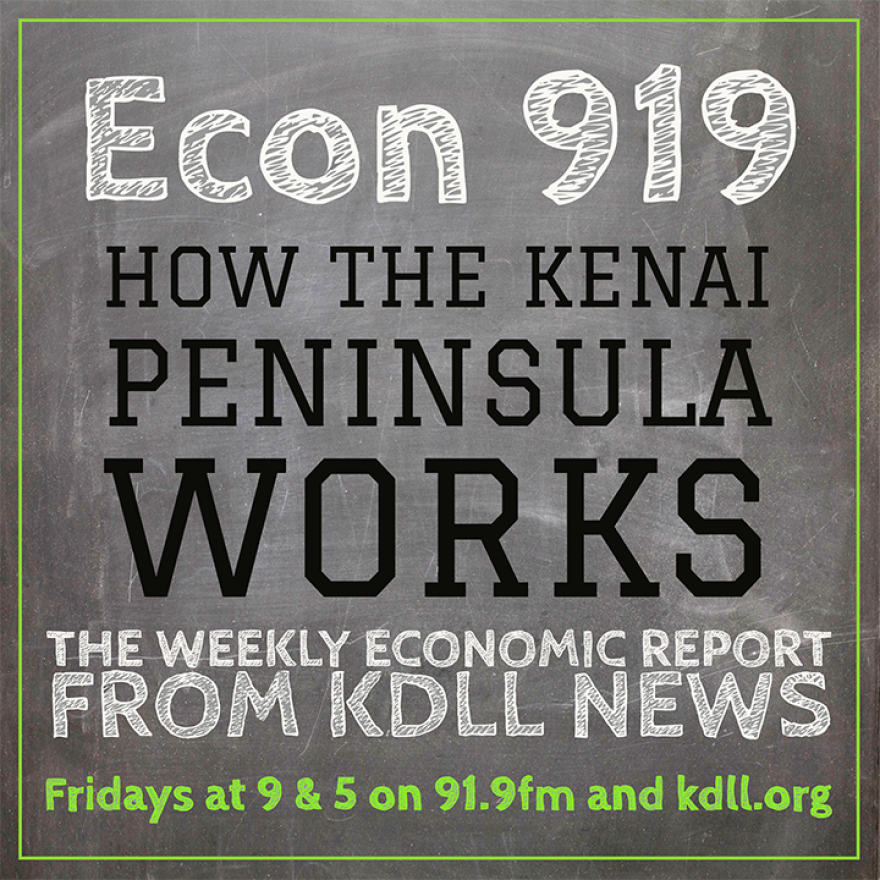 Jacob Caldwell's family purchased Kenai Aviation from Bob and Jim Bielefeld two years ago. The Bielefelds' operation flew workers from Kenai Municipal Airport to the oil fields, but their business waned when oil companies started making their own flights in house. When the Caldwells took over, they sought to make charter flight services and pilot training part of their operations.
And that's exactly what they did.
Last week, I got a look at Kenai Aviation's new plane, a white Beechcraft Super King Air 200 that has two sleek blue streaks on its side. It fits nine people and can travel nonstop as far as Seattle, providing the wind is good. The company started using that plane to do charter flights in August.
This plane will get you — and eight of your closest friends — wherever in Alaska you want to go. Caldwell said Juneau, Prudhoe Bay and Dutch Harbor are some of their most popular destinations.
"With the Ravn collapse, the biggest market we've been actually working with is Dutch Harbor so far," Caldwell said, "'cause they don't have the scheduled service from PenAir/Ravn anymore, so we've been doing a lot of different charters out that direction."
Kenai Aviation has an active pilot school too, one that offers different types and levels of certification. The new King Air has high-level requirements for its pilots, but Caldwell's hoping to get different types of aircraft that will make it so students can move up the ladder into instructor roles and then into co-pilot and pilot roles. Like a self-sustaining airline ecosystem.
As you might imagine, flight school was pretty popular this spring.
"We had a couple students, especially at the beginning of COVID, who were ones who really had always wanted to get flight training done but had just never had the time," Caldwell said. "And they found themselves with some time while their jobs were shut down. So we had a couple students come through that were able to knock that out right away."
The flight industry as a whole was considered essential during coronavirus closures, so the company could keep its flight school mostly open.
Kenai Aviation also offers sightseeing tours, but that part of its business was more negatively impacted by COVID-19.
When asked about his vision for the company going forward, Caldwell said he'd like to continue with the company's charter services and add on some scheduled flight services, too.
"So not looking to go for our Part 121 certificate to go do big commercial operations," he said, "but growing more toward something like the size of what Grant Aviation or Hageland would be, probably not that big but that similar level of service."
Part 121 is the certification that allows airlines like Alaska Air to operate scheduled commercial flights on set routes. Kenai Aviation is a charter flight company, so they're Part 135.
There are trade-offs when it comes to operating charter flights versus commercial flights.
"The big difference on it is when you get a call for a charter flight, you know that all your variable expenses related to a flight are covered," Caldwell said. "You know when you launch, that all your fuel is going to be paid for, the pilot's time is paid for, your hourly maintenance items are all covered. So that's the nice part, is it's very consistent in that. But you don't always know for sure how many charters you're going to get within a month to cover whatever your fixed overhead costs are."
Within the Part 135 classification, there's a lot of room for growth. At Wednesday's Kenai City Council meeting, the council approved Kenai Aviation's plan to build a hangar at the Kenai Municipal Airport.
"We're already in the process of adding an additional King Air to our fleet and look into some other aircraft to potentially be able to eventually look at doing some scheduled service offerings out of the Kenai Airport, besides just the charter stuff we're currently doing," Caldwell said.
In a way, Kenai Aviation is back to its routes in oil — companies are now chartering the airline's planes to get its workers to Prudhoe Bay.
But a lot has changed in the last two years under the Caldwell family's ownership. And with the addition of new planes and a new hangar, continued growth seems to be on the horizon.