Econ 919 — Zero-waste shop opens in Soldotna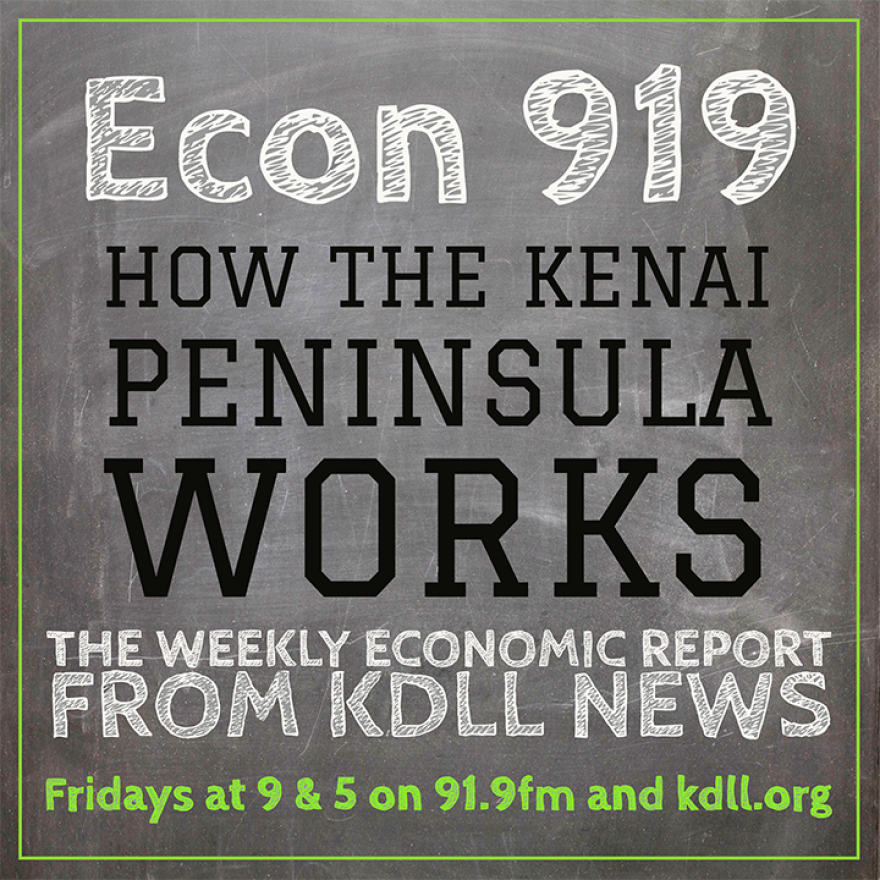 There's a real method to the way this store is arranged.
"As you go around the space, you'll see all of these beautiful pieces of art that are really inspired by Alaska. I'm looking right now at some pieces of octopus and moose and polar bears and just all of these images that we love about Alaska," said Ana Scollon, the store's owner. "And then, as you move around the rest of the space, my hope is that as we think about all these wonderful things that we love about Alaska, we can also … basically change some of the things that we do to protect this space."
This is The Goods, a Soldotna shop-to-be that sells zero-waste products and local art. It's opening Oct. 17.
Scollon is running The Goods. She moved from Tennessee two years ago and teaches at a preschool in town.
Artist Amy Kruse, from Kasilof, will be helping out, both in the store two days a week and with some of the costs. Kruse will be there Thursdays and Fridays, while Scollon will take Wednesdays and Saturdays.
The Goods sits in what was previously an office at the front of Cook Inletkeeper's Community Action Studio on the Kenai Spur Highway. Scollon was originally brought into this space as a volunteer for the Soldotna branch of the Food Hub, a project of Cook Inletkeeper.
The big back room is still a studio, a place where artists come to work and take classes — although there haven't been any classes as of late, because of COVID-19.
Still, a handful of people are working in that space at a time. On this particular Wednesday, Willow King, the owner of the catering business Where It's At, was there, as was Kaitlin Vadla, the regional director of Cook Inletkeeper.
Scollon said that she wants her store to make living sustainably more convenient for people in the area.
"And that, in practice, looks like we'll be sourcing bulk grains, rice, beans, from Where It's At," she said. "For example, I already bring in Mason jars to Where It's At on Wednesdays when I'm here, and Willow fills them up for me with whatever I need, whatever I've run out of. As opposed to having to go to the store and buying another tiny plastic bag that I can't really reuse."
There are also soaps in reusable bottles from Alpenglow Skin Care in Homer, multiuse metal straws and beeswax wraps from Seward.
It's not a full replacement for the grocery store, but Scollon hopes it's at least a partial one.
Featured artists include Sarah Youngren, whose seagulls and puffins are painted onto masks and stickers; Vadla, whose work is on leggings and mugs; and Bonnie Bernard, who paints watercolors.
Scollon herself is a felt artist. She'll have some of her pieces at the store and hopes to have some time to work on orders while she's keeping shop.
Vadla, like Scollon, sees the store as an amalgamation of Cook Inletkeeper's values.
"Ana has got terrific energy and momentum and a passion for zero waste and local economies, and that's right along the lines of our values, too," Vadla said. "And so it's kind of a match made in heaven, and we're really thrilled that she's going to open up shop in our Community Action Studio."
At the grand opening on Oct. 17, there will be snacks and kombucha, door prizes and giveaways. It will be tame — Scollon is mindful of being COVID cautious.
And, yes, it might seem strange to start a store in the middle of a pandemic. Still, Scollon is optimistic. She thinks people are now paying more attention to how they shop, since many small businesses temporarily shuttered early in the pandemic while big stores and chains remained open.
On a personal level, too, it felt right. She's putting more skin in the game than she's had to in the past, but is excited that this endeavour is more scalable than her felting business.
She also thinks it's soothing in a time like this to focus on good, actionable things. Which is not to say that she has sustainability down to a science, or that she expects others to have it down, either.
"I have said this, and I'll continue to say that I don't want to be like the patron saint of zero waste, because I throw things away. Just like we all do," she said. "But it's just changing things as we can. One thing at a time makes a difference."
Visit @TheGoodsAlaska on Facebook for updates on The Goods and its October opening.